Instruction of Jakcom R3 ¨C NFC Module
(Android with NFC function)
1. Turn on the NFC function of mobile, and then Download and install the smart ring app ¡°Jakcom Smart Ring¡±.
Click to Download from Google Play Store
Or Click this backup link http://www.jakcom.com/app/JSR/V2/update/jsr.apk
2. Click the icon of Jakcom Smart Ring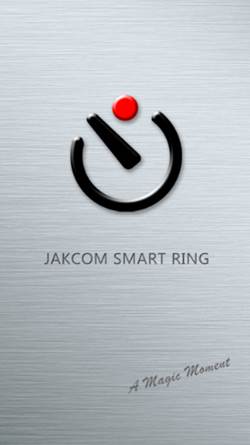 3. All functions are divided to two categorises , ¡°Edit Task¡± and ¡°Share info¡± , Click category button to view function menu.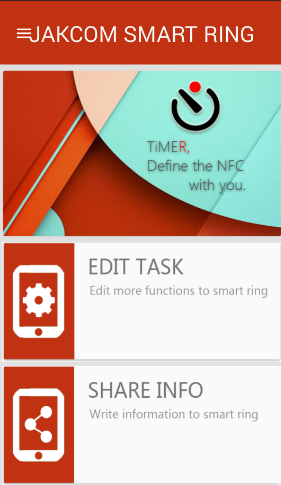 4. Click ¡°EDIT TASK¡± and Use the Ring chip side which you want to edit to Touch your phone NFC signal area , so that you can login the menu to edit task of your Smart Ring .
PS: please do not to clear this app background program in the system or third-party app setting , or else task will be invalid.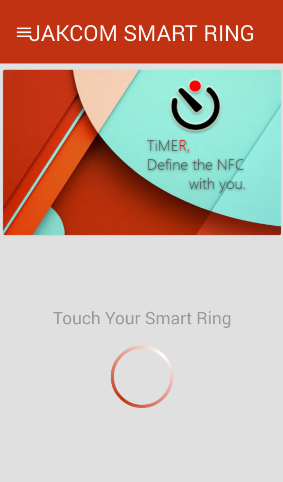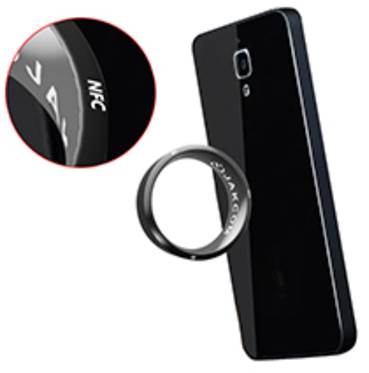 5. Click ¡°Share Info¡±,you are able to view or edit the Ring chip which you want.
The cloud icon is online sharing ,it can share more information , but receiver¡® phone needs to connect internet ;
The disk icon is offline sharing, though it can not share a lot like online ,but receiver¡® phone doesn¡¯t need to connect internet, it is easy to share in anywhere and anytime.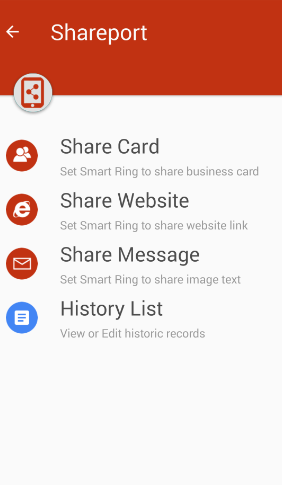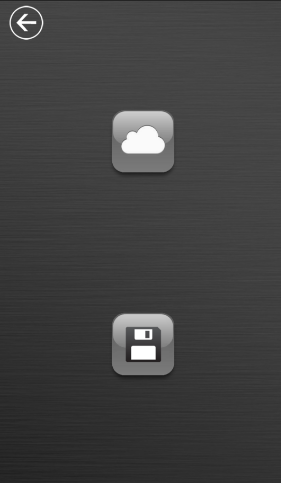 6. Click the menu button of main page, you are going to set the ring task to be Empty or check History of it and so on.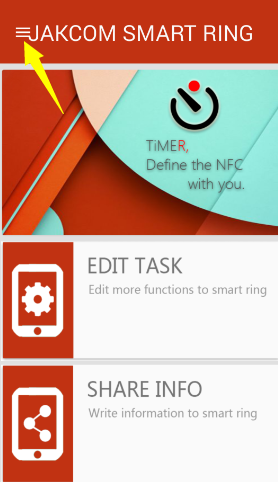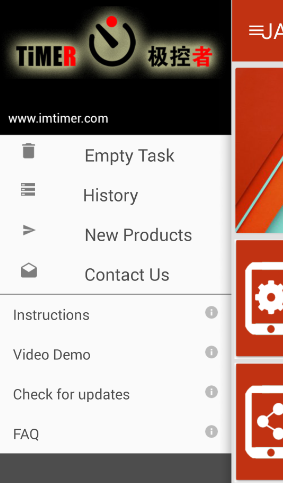 F A Q
Website: www.JAKCOM.com
Phone £º+86 400 806 7311 / +86 136 2362 7373
Email£ºservice@jakcom.com
1. Not sensitive on Samsung?
First of all, please confirm your phone is with original battery, and also originally-made back-case. The possible unsound Read & Write of the NFC device is due to that Note2¡¯ NFC antenna is on its back-case instead of battery and may become contact-insensitive after long time¡¯ use. In case of that, we suggest to adjust the antenna contactor slightly out to make them tighter.
2. Model available?
Available for all of Android system mobiles with NFC.
3. This NFC device is locked as ¡°Read-only¡± (cannot write in any data), how to deal with that?
Usage of other NFC Apps to operate this NFC device or touch high-band equipment may cause the chip locked, which needs to send back to factory to reboot for maintenance.
4. Click in App, and notify as ¡°please enable NFC¡±?
1> You forget to enable NFC on your smartphone,
2> Your smartphone do not have NFC function.
5. The mobile NFC struck with no reaction?
Some smartphone with Android 4.1 4.4.2 may have Read-struck in reading NFC. If you happen to find that the NFC device cannot read or NFC doesn¡¯t work suddenly, please lock the screen for 20 seconds or so, disable and re-enable the NFC, or restart the smartphone, the problem is then solved.
6. The app got struck when moved or installed on SD card.
Due to the particularity of App data, please don¡¯t move the installation location after installation, in case of any unforeseeable error or struck.
7. Cannot install after downloading the App?
Please confirm your smart phone with Android system, then open ¡°Security Setting¡± in Phone Setting, confirm to tick ¡°Unknown Source¡± option.
8. Program Lock repeatedly restarts?
Try to stop the power-saving mode. Set operation not to clear this NFC App in the system or the other clear application. Don¡¯t operate many background programs (especially applications with Program Lock). Please try not to enable power-saving mode; set in the system or third-party app not to clear this APP; don¡¯t leave too many background Apps.
9. Program Lock stops work after the app is locked.
This is probably due to that the mobile system also clears our App while clearing the RAM, causing Program Lock invalidates. Therefore, please remember not to clear our app in the system or third-party app setting.
10. Notify as ¡°Error¡±
This is mainly caused by abnormal signal reception, incorrect bar code or chips locked as Read-only. If it happens by accident, it is probably abnormal signal reception, not bar code or locked chip problem. The reason probability is that the user moves away this NFC device too quickly that the phone doesn¡¯t have enough time to write it. Please move away your NFC device after the screen display a tip or notification, because the immediate move on hearing indication tone may cause error, simply like you plug out your U-drive before its write is finished. The frequent contact of high-band equipment (eg. Microwave Owen) or other NFC App operation may lead NFC device to be locked.
11. Cannot use screen lock?
The highly customized android system may be not work with this functions.
12. Double lock with system screen lock.
Please set system screen lock to be ¡°None¡±from phone settings ,so that can avoid double lock with this Smart Ring lock.
13. Choose open options
When you first use task of this app, the system will notify you to choose the way to open that, please choose the originally default apps of the system to open
14.Info of shareport can not be open?
Please don¡¯t use The third party browser to open it , try it on default browser again.